Impulse Consult
Client

Impulse Consult
Line of business: Training engineering
Location: Dordogne, France
Requirements
Impulse Consult needed a coherent, modern and value-adding visual identity to highlight their values and activities in the training domain.
Solutions provided

Graphic design
Creation of a logotype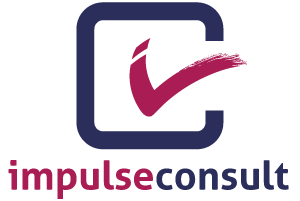 Pitch
The aim was to graphically render the core activities and values of Impulse Consult: training, seriousness, dynamism, ethics. Thus were stylized the initials of ImpulseConsult on a principle of two colors:
Letter "c" [the "Consult" aspect]: with a very classic shape, the letter displays a very strong base. It conveys an impression of stability and solidity. These values are also communicated and further strengthened by the choice of the navy blue color for the institutional, serious aspect.
Letter "i" [the "Impulse" aspect]: very stylized with a strong left to right dynamics. This letter brings a modern and energetic impetus to the whole. Besides, the choice of a warm color - purple - further strengthens and enhances this vitality.

Website
Migration of an existing website (php/mySQL) and its content to a Joomla-based CMS

Moodle platform
Upgrade of the existing Moodle platform and installed plugins
Links to the website and Moodle platform